Skip to Content
Quality Dentures in St. Louis, MO
At South County Smiles we have helped many patients restore their beautiful smiles with dentures at our St. Louis office. Missing teeth can affect your self-esteem and may cause additional issues, such as shifting teeth, difficulty eating, sagging skin, and other related problems. Our professional team is able to craft a solution for your specific restoration needs. We'll help you restore your smile and your oral health. If you think dentures may be a solution that could work for you, please contact our office to schedule an appointment for an evaluation. We'll be happy to work with you to find the approach that makes the most sense for your particular situation. No two people are alike and we always strive to address your individual dental needs in a way that works best for you. Take a few moments to learn more about dentures below and feel free to reach out to our office staff if you have any questions. We can answer any questions you have about restorations for missing teeth. We're here to assist you in any way we can.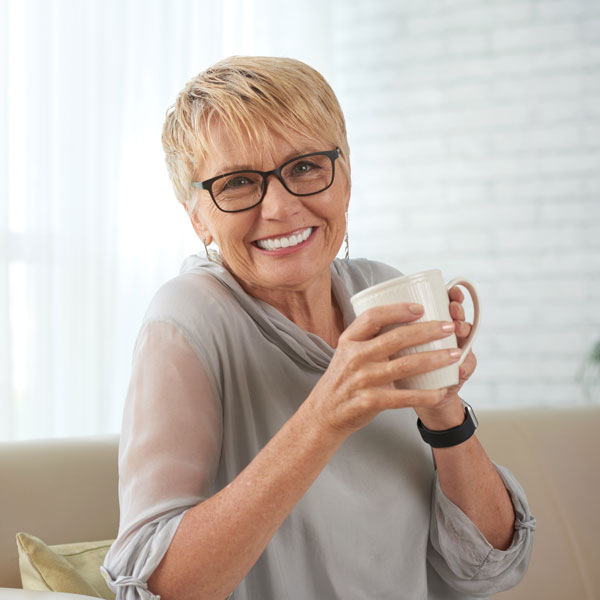 Why Consider Dentures?
As mentioned previously, dentures area good solution if you have missing teeth, or if your natural teeth are damaged, worn, or otherwise compromised in some way. Dentures function in much the same way natural teeth would and create a seamless smile. Dentures assist in chewing and speaking and also help uphold your facial structure so you can comfortably go about your everyday life.
With today's technology, we can fashion dentures that closely resemble your natural teeth. We can replace your entire set of teeth with complete dentures or seamlessly fill in gaps with partial dentures. What type of dentures you'll require will be based on a number of different factors and we'll explore all the options with you before deciding on a particular course of action.
Types of Dentures
There are two types of dentures for oral restoration: complete and partial dentures. Complete dentures are what many people think of when they hear the word, "denture."Complete dentures are full, removable devices that replace natural teeth and function in their place. These are most often used when a person is without teeth or when teeth are removed to accommodate the device.
Partial dentures are the other option for teeth replacement and these are frequently recommended when there are still some healthy, functioning teeth left in your jaw. A partial denture is a series of artificial teeth that replaces sections missing in the mouth. A person can have more than one partial denture if needed.
Let's Talk Restorations and Dentures
If you have missing teeth, contact our office to talk about restorations or dentures. Dental implants may be another option for people in certain cases. We are here to make sure your dental needs are addressed. We'd be glad to discuss all of your choices, as well as answer any questions you may have. For expert dental care, give us a call and schedule an appointment. Reach out to our office by calling 314-487-0799 at your earliest convenience!